Regular price
Sale price
£219.00
Unit price
per
Sale
Sold out
Patented lie-flat design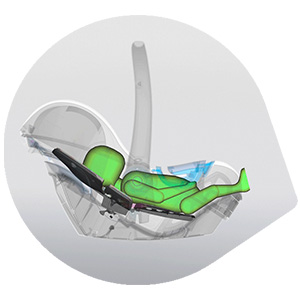 Britax Römer BABY-SAFE 3 i-SIZE allows for a more comfortable and more ergonomic position for newborns. Its patented integral recline mechanism allows you to adjust the flatness of the lying position according to the child's height. The position changes automatically when adjusting the headrest, increasing the space to suit your child's development. The shoulder straps also adjust automatically when adjusting the headrest.
---
Infant insert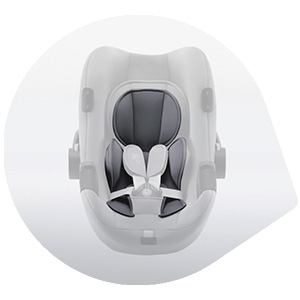 BABY-SAFE infant insert is specially designed to give extra support to small babies. This removable addon features energy-absorbing foam pads that reduces the space to provide your baby with an additional comfort.
---
Sun canopy & carry handle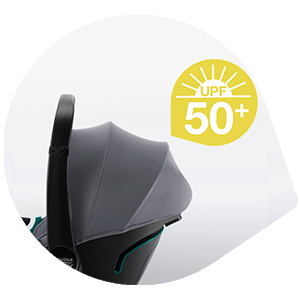 The BABY-SAFE sun canopy offers protection for your child from the sun (UPF 50+) and wind both in the car and on the pushchair. The attachment points are conveniently located on the sides of the handle so you can carry the infant carrier while the sun canopy is in use.
---
Versatile installation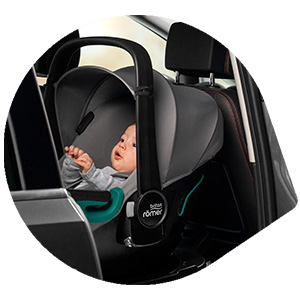 The Britax Römer BABY-SAFE 3 i-SIZE can be installed in the car via 3-point vehicle belt, which makes the seat used eve in older cars without base attachment Isofix points. Hovever, to ensure your car seat is correctly secured, it is recommended to use Isofix base, which offer super safe and stable installation. The Britax Römer BABY-SAFE features special audible click indicators, which will inform you the carrier is correctly installed.
---
Easy access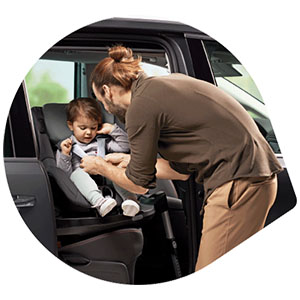 The Britax Römer BABY-SAFE 3 i-SIZE is compatible to use with rotating Britax Römer FLEX BASE iSENSE which allows you to turn it to the open car door, making it easy to remove you baby from the seat.
---
Travel system ready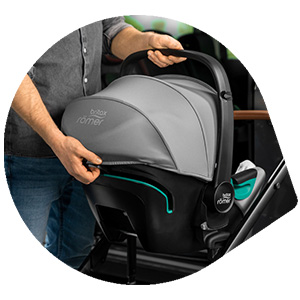 You can make the day go smoother by using the BABY-SAFE 3 i-SIZE infant carrier on a pushchair. To do that simply take the seat with your baby out of the car and securely attach it it onto your pushchair frame via CLICK & GO® adapters (not included). The BABY-SAFE 3 i-SIZE easily fits Britax Römer Simile III and B-AGILE M/R pushchairs and is compatible with other leading brand's pushchairs too.
---
All features:
Suitable from birth to 15 months / 40 - 83 cm / 0 - 13 kg
Conforms to ECE R129 (i-SIZE) standard
Lie-flat technology allows for a more comfortable and ergonomic position for newborns
Comfortable newborn insert
Superior Side Impact Protection system (SICT)
Easily adjustable padded headrest and harness
Sun canopy protects your little one from the elements (UPF 50+)
Harness distributes forces of an impact across 5 points, helping protect your child
Adjustable handle allows for easier movement
Indicators let you know when the carrier is fitted correctly
Easy removable and machine washable seat cover
Installation via 3-poit vehicle belt or Isofix base
Compatible to use with FLEX BASE iSENSE (available separately)
Easy release with CLICK & GO® adapters (not included)
Compatible for use with the Britax SMILE III pushchair - adapters are included with the pushchair
Fits on the Britax B-AGILE M/R with CLICK & GO® adapters (available separately)
Compatible with other brands strollers (via their multi-car seat adapters):
ABC Design: Salsa Air, Salsa 4, Viper 4, Samba, Swing
Babystyle Oyster 3, Oyster Zero Gravity, Egg 2
Silver Cross: Pioneer, Wayfarer, Surf, Wave, Coast, Horizon, Pacific
Hartan: All Models
Moon: RESEA S, STYLE, NUOVA, NUOVA AIR, N°ONE
Specifications:
Rearward facing installation: 40 - 83 cm
Dimensions: H58 x W44 x D67
Weight: 4.8 kg
Share
View full details